Your wedding decor? Whether you dream of Cinderella's castle or a bohemian union on the beach, it all depends on your theme, your budget, the number of guests, and your personality! Take stock, and weigh the pros and cons before deciding. 
A reception venue that suits you
Do you want a wedding that looks like you? Choose a place of reception in accordance with the personality of your couple. Ask yourself the right questions. Are you more of an evening in a theater, a chic reception in a castle in Normandy, a relaxed atmosphere in a garden, or feet in the sand on the Basque coast?
To save precious time, specify your desires as much as possible. For you, is the dream setting for your wedding reception rather a mansion, a field with a view, a circus tent, or a family home? After the projects, list the needs. Determine the ideal location. Then sort between the different sites according to the surface areas offered. As an indication, for 100 guests (seated meal and dance evening), a room of 150 square meters can be a good size.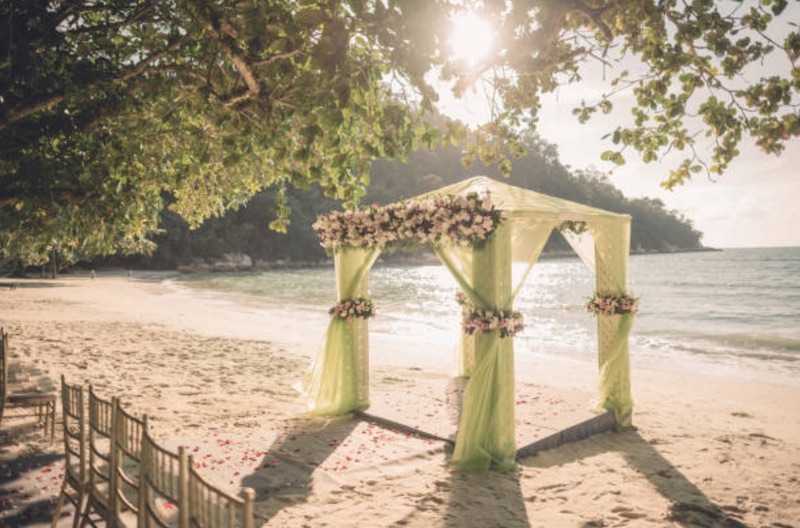 Best practices for looking for your wedding reception hall

 
The search for your place of reception is above all a question of budget, timing, and method, both in research and during visits.
What budget for my reception hall?
If it is true that the rental of a place remains, with the caterer, the most important item of expenditure, it cannot reasonably represent more than 10 to 15% of your wedding budget. Be aware that it is sometimes easier and more economical to devote a few extra euros to it rather than to afford a "camouflage decoration". 
When to look for your wedding reception hall?
It is advisable to get started a year in advance. But you can take even more margin (eighteen months or even two years) if you are aiming for a popular place. 
How to find a reception hall for your wedding?
Solicit those around you, look at the various directories on the internet, take a look at our reception rooms pages by city or region, and do not overlook any leads. If your budget allows it, do not hesitate to call on a wedding planner. This good fairy will lead this search for you. 
Should you visit your reception hall before your wedding?
Taking the time to visit and meet with the owners of the premises is essential. In case of a crash, put an option a few days before the final confirmation, the time to set a date with the town hall or the place of worship. 
10 essential questions to ask yourself before booking your wedding reception venue
How much can you budget for the banquet halls in Noida?
What should its area be?
What is, for you, the ideal setting for this big day?
Is it possible to sit outside?
Is there accommodation on site? Near?
Is the caterer imposed by the owner of the place of reception or is it possible to bring one of his choices?
In this case, what type of material can he have? And, at what cost?
Are other providers taxed?
Are there any additional mandatory costs to be expected? (parking, heating, etc.)
Can the place be freely decorated?
Is the rental planned for a day, an evening, or a weekend? Can it be extended? If so, at what cost?